Longan fruit contains several vitamins and minerals and large amounts of vitamins A and C. The Chinese name for this fruit is long yan rou/龙眼肉, which literally means "dragon eye flesh". The dried flesh is taken as a tonic and treatment for insomnia and neurasthenic neurosis.
110 ml Warm water
8 g Salt
1 tbsp Olive oil
3-4 tbsp Dried longan fruit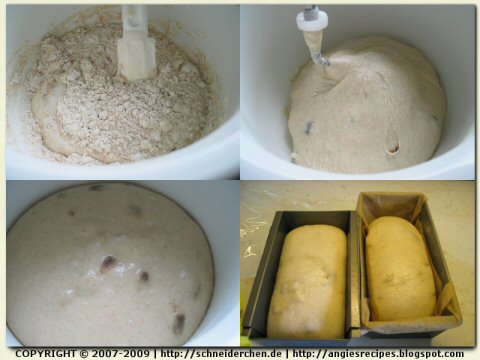 Combine sourdough, spelt wholewheat flour, and water in a bowl of the mixer. Cover and let stand at the room temperature until active, about 3 hours. Add in spelt flour and sugar. Beat for 2-3 minutes, then mix in olive oil and salt until dough ball forms. Finally add in dried longan fruit and knead until the dough has become smooth and elastic.
Place the dough in a lightly oiled bowl and let rise until doubled, about 2 hours. De-gas, roll and shape the dough to fit a well-greased loaf pan. When the dough is within 1/2 inch of the top of the pan, then put the lid on or cover a bread pan with parchment paper and put a weighted baking tray on the pan.
Bake in a preheated 200C/400F oven for about 40 minutes. After baking, immediately remove the lid and cool for 10 minutes on a wire rack. Turn out the bread and cool to the room temperature.
Ivy, of kopiaste has passed this cute Award. Thanks, Ivy!