70 ml Water
80 g Corn oil
100 g Sugar
80 g Cake flour
25 g Cornstarch
2 g Baking powder
2-3 g Chicken or vegetable bouillon

1 g White pepper powder
125 g Egg yolks
200 g Egg whites
A few drops of white vinegar
2 g Salt
8 g Seaweed crumbs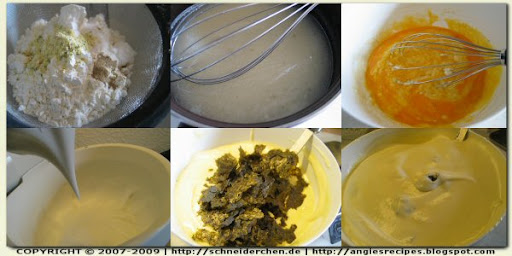 Mix water, 20 grams of sugar and corn oil in a bowl. Whisk until the mixture is emulsified. Sift cake flour, corn flour, baking powder, chicken powder, and white pepper powder into the liquid mixture. Add in egg yolks and mix until well-combined.
Whip the egg whites with a few drops of vinegar and salt until foamy, add 1/3 of 80 grams of sugar and beat until soft peaks form when the beater is raised. Beat in another 1/3 of sugar and continue beating vigorously for another 1 minute. Beat in the remaining sugar and beat until they hold firm peaks.

Add about 1/3 of the whites to the egg yolk mixture and mix. Add in seaweed crumbs and combine. Fold the remaining whites and fold in with a spatula until combined.
Spread the mixture into one 30x40 cm or two 25x20 cm cake roll pans lined with baking paper. Bake in a preheated 190C/375F oven for about 15-18 minutes.
Remove, cool briefly, and invert the cake onto a new parchment paper. Carefully peel off the the paper liner and then invert again the baked side-up to cool on a wire rack. Trim the edges of cake. Spread the surface with whipped butter or mayonnaise and roll it up. Chill for about 1 hour and slice.